Classes happening soon: Short Row Savvy, Mistakes No More, and a Juniors Crochet Camp!
Short Row Savvy: 
Have you ever avoided a pattern because reading "short rows" in the description sent you into a panic? Join Wendy for this workshop to boost your technical knitting skills. We'll learn German short rows, Shadow Wraps, and Japanese Short Rows in addition to the standard Wrap and Turn. We'll also cover how you can use short rows for shoulder and sleeve cap shaping.
Please come to class with 4 identical swatches as follows: Cast on 18 stitches, knit 4 rows in garter, then work 6 rows stockinette. Each swatch should be on needles or stitch holders so it's ready to be worked on during class.
Saturday, May 14 – 11am-1pm
Cost: $25
You can register for this class by clicking 
here
 and navigating to May 14th.
Mistakes No More:
Mistakes – we all make them, but knowing different ways to fix them can help you become a more confident knitter, as well as saving you valuable time! Students will learn how to "tink," rescue bad stitches several rows down, use a lifeline, and undo a bindoff. We'll also cover the basic decreases and how to "tink" those. If you want to get over your fear of mistakes, this is the workshop you've been waiting for! Class size limited to 6. Using smooth, light-colored yarn in worsted weight or larger, please come with the following small swatch on your needles to use during class: cast on 10 stitches and work 6 rows in stockinette stitch.
Saturday, May 14th – 1-3pm
Cost: $25
You can register for this class by clicking 
here
 and navigating to May 14th.
Has your child expressed interest in taking their crochet skills to the next level? Well now is their chance! Ruth will be teaching a week-long Juniors Crochet Camp for kids aged 10-15. Skills acquired are the Magic Circle Foundation, learning to crochet a square, join different colors, and to join motifs. We prefer that your junior already knows the basic crochet skills such as a basic chain and single crochet stitch. However, if not, please schedule a lesson with Ruth before the camp starts. There are only 6 spots in the camp so move quickly on this one!
June 20th-24th – 9:30am-12pm
Cost: $150, includes instruction, snacks, and all materials (yarn, hook, & pattern)
You can register for this class by clicking 
here
 and navigating to June 20th.
Celebrate Mother's Day with a gift from Knit One!
This year we are offering a great deal for a Mother-Daughter/Son private knitting lesson with Kylen or Laura for only $40! Anyone who calls by May 8th will get this deal! You will receive this special in the form of a gift card. Does your mother already know how to knit/crochet? We have great knitting bags and needle organizers available in multiple different patterns! Stop by the shop to check them out!
Save the Date: Trunk Show with Lattes and Llamas & The Steel Valley Yarn Crawl

If you went to the Knit & Crochet Festival this year, you may have seen Megan-Anne and Jac from Lattes & Llamas. Well, get ready to see them again on June 18th! We'll be having a trunk show from 10am-5pm with a large array of their yarns! Megan-Anne will also be teaching an Advanced Colorwork in Socks class (more information will be available in the coming weeks). We are so excited to have them! Please check out their website for more information, and save the date for this amazing event!
Click
here
to visit their website! They have a lot of kits, patterns, mini-skeins and projects featured, so check it out!
We are so excited to be participating in this year's Steel Valley Yarn Crawl, along with 10 other shops in the surrounding areas! Stay tuned for more information because there will be awesome prizes and accessories!
What our customers have been up to…
Below is Linda Du's recently finished
Pure Joy by Joji Locatelli
. If you haven't noticed, she's a new knitting prodigy. She used Juniper Moon Farm Herriot Fine which is made of baby alpaca, creating the softest shawl in existence!
Here is Janice's most recent
Hitchhiker
 shawl! She is working on using up her stash, and switched up the gauge on this shawl. Well done, Janice!
And now we have Darlene with her beautiful
Love of Spiders
shawl, which is still a favorite at the shop since we did the KAL in December. She used Madeline Tosh and Baah La Jolla, and there couldn't be a better looking shawl.
Gradient kits are extremely popular in the knitting world this season, and Susan found this beautiful yarn at the Knit & Crochet Festival. The pattern she used is
Ellison Bay by Paula Emons-Fuessle
, and we LOVE how it turned out!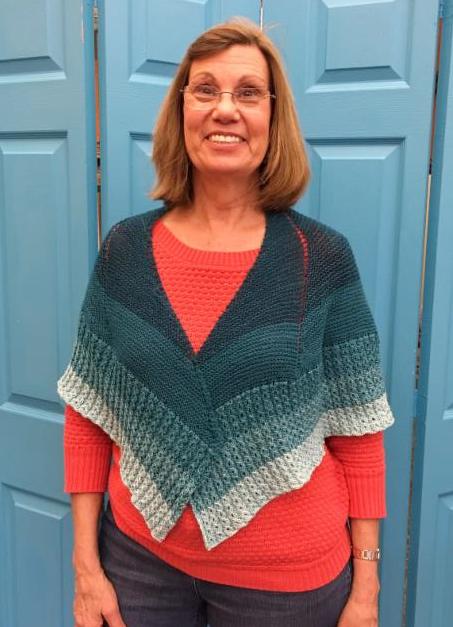 Below is Jen Aylmer in her
Frontenac
 Tunic! This pattern was created by Julie Hoover. Jen used Juniper Moon Farm Zooey Aran in the Sel Gris and Ketch colorways. What a perfect top for spring!
Please participate in the Annual Day of Giving  
Each year, Knit One customers and friends knit or crochet hundreds of hats, scarves, and mittens for the Wilkinsburg Community Ministry. These items are then given to the residents in Wilkinsburg, assuring that they're warm during these cold winters. And now there is another way to help those in need. Through the Day of Giving, you are able to donate to philanthropies all over. This year, if you donate to the Wilkinsburg Community Ministry, you will be able to enter into a raffle for free yarn! Just bring some proof of your donation to the shop and you could win!
Here
is the Day of Giving website. Thanks for helping those in need!
May KALs
Iszara by Melanie Berg
Aliya will be leading this KAL on Thursday afternoons from 12-2 pm (May 5th, 12th, 19th, & 26th)! You'll need approximately 884 yards of fingering weight yarn in your MC, and 221 yards in your CC. Check out more information about this pattern 
here
.
Pebble Beach Shawl by Helen Stewart
Ruth will be leading this KAL on Saturday afternoons from 1-3pm next month (May 7th, 14th, 21st, & 28th). You'll need approximately 437-800 yards of fingering weight yarn, depending on which size you'd like to knit! More information about this pattern is available
here
.
Dragonfly MKAL 2016 by Rachel Roden
Laura will be leading this MYSTERY KAL on Wednesday evenings from 6-8pm (April 13th, 20th & 27th and May 4th, 11th, 18th, & 25th) and Sunday afternoons from 3-5 pm (April 10th, 17th & 24th and May 1st, 8th, 15th, 22nd & 29th). 
This is a TWO MONTH KAL.
 You'll need 870 yards of a fingering weight yarn in two colors and a size 4 needle. More information about this pattern is available 
here
.
What we're working on…
Work + Shelter – finished! (Kylen)
I just finished my April KAL and love how it turned out! I used the softest cotton, Juniper Moon Farm Neve, and was turned into a cotton liker. Unfortunately I won't be wearing this over the summer, as it's for a mannequin to wear at the shop! You can find the pattern here.
Dragonfly MKAL (Laura)
Laura is leading this Outlander-inspired KAL with a bunch of great knitters this month! She is currently working on the third clue, which come out on Saturdays. More information about the pattern is available here.