October Knit One Movie Night
This month's Movie Night will take place on Friday, October 28th. As always, we'll be opening up the shop at 7pm, and will start the movie around 7:30. If you come for the Movie Night, you'll receive 10% off any purchase you make that evening! The movie choice has not yet been made so keep an eye out for more information about this event!
You can still join our October KAL!
You know what the best thing is about KALs? The fact that anyone can start anytime! Even if you haven't picked out your yarn yet, you are absolutely still welcome to join this KAL. There are nearly 20 people already! This is a really fun knit, and you can check out all the variations on Ravelry.
Om Shawl by Andrea Mowry
Kylen and Laura will be leading this shawl/poncho KAL on Wednesday evenings from 6-8 pm throughout the month of October (October 5th, 12th, 19th, & 26th). This project is really interesting because it is simply a large rectangle and can be worn in multiple different ways! We are so excited for this KAL! You'll need 650 yards for your MC and 150 yards each of 3 contrasting colors.You can view more information about this pattern 
here
.
**We offer these knit-alongs to bring the knitting community together and help knitters to expand their skill set. We highly encourage participatory individuals to purchase materials at Knit One so that can support our instructors and keep these events free of charge.**
Knitting for Charity!
Cold temperatures means that everyone gets the knitting bug! This year we'll be donating hats, scarves, and mittens to the Wilkinsburg Community Ministry! You may use any yarn that is washable, and make any size for children and adults. You can drop off your knitted items at the shop any time up until the end of December, and we'll donate them for you! If you need simple patterns or any help, please contact the shop at 412-421-6666 and we'll be happy to assist you!
Featured customer projects…
Below is Lizzy McKay and her roommate Natalia, both getting started on our KAL! Lizzy was teaching Natalia how to do the long tail cast-on.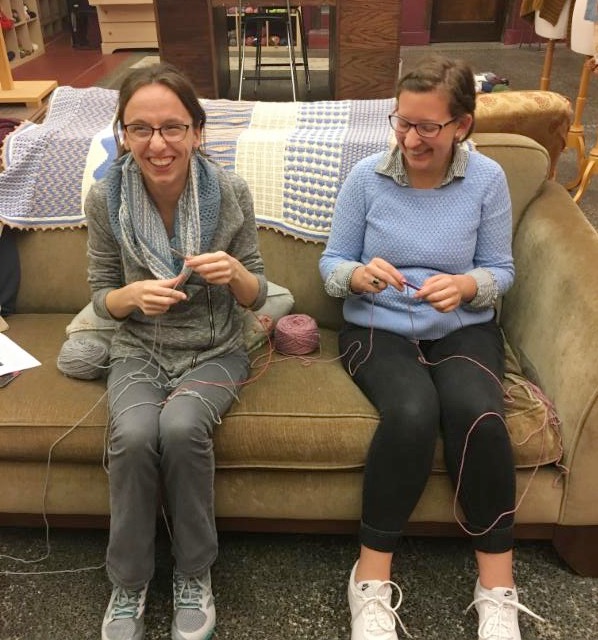 Helen Gricks has completed her Building Blocks blanket! She has been knitting with a small group of friends. She used Hikoo Simpliworsted for this project!
What we're working on…
Gift Socks – Kylen
In the last couple of weeks I've been thinking a lot about what gifts I'll be giving over the holidays! I always start later than I want to, but I have almost completed a pair of socks so far. This is some stash sock yarn that I've been meaning to use.